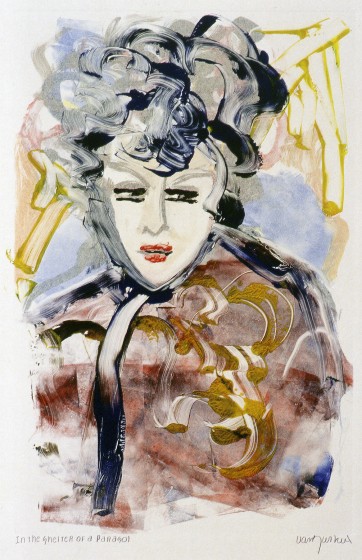 My husband Dave and I will board the C & J luxury bus here in Portsmouth next Tuesday and ride into Boston to amble about and visit a few exhibits we want to see before they close. I'm eager to see Anders Zorn: A European Artist Seduces America, through May 13th, at the Isabella Stewart Gardner Museum. I first discovered the work of Swedish artist Anders Zorn (February 18, 1860 – August 22, 1920) in the early 1980s when I lived on Park Drive in The Fenway; both the Museum of Fine Arts, Boston and Isabella Stewart Gardner Museum were a stone's throw from my apartment. I am a huge fan of Zorn's work. His etching The Omnibus is one of my all-time favorite pieces. I feel an afinity with Zorn in a number of different ways: the focus on figures, the love of light and dark, and the period in history in which Zorn lived. Perhaps you can see my feeling of kinship with Anders Zorn in the color monotype In the Shelter of a Parasol which I printed in 2008 and is on view at the top of this post.
After getting my fill of Zorn at the Isabella Stewart Gardner Museum, I'll amble over to the Museum of Fine Arts, Boston.  I'm eager to see Cezanne's The Large Bathers which is currently at the MFA through May 12th as part of the Visiting Masterpieces program. I'm also chomping at the bit to see Luxury on Paper: The Art of Surimono, an exibit on view through December 1, 2013.

I  love and am interested in any and all printmaking, all work on paper. When I first saw the listing for Luxury on Paper: The Art of Surimono, I headed to our bookshelf and picked up an actual dictionary as I had no idea what the word surimono means. Apparently surimono is a genre of Japanese woodblock prints which are most often commissioned to be made with the highest quality design, materials and craftsmanship in an edition to be distributed among friends and family. Historically, surimono prints are not made to be sold. They are private treasures.
An original handmade print is light years away from a reproduction print. Yes, one can see the image in a reproduction of an etching, woodblock print or monotype. Yet only in looking closely at an original print does one see the texture of the beautiful paper, the embossed mark of the printing plate on the paper (not to be seen on lithographs which are printed on paper from stones), how the ink rests on and nestles into the pores of the paper. I most love to look at and savor handmade prints which are unframed because the glass or Plexiglas, integral to protecting a work of art on paper, puts a hard layer between the artwork and my eyes. I completely understand why some people buy unframed original prints and store them in archival boxes and/or flat files: they can feast their eyes on the artwork and experience it in a way similar to what the artist experiences when looking at an original handmade print.
I'll be printing this Friday and next Monday at Darlene's studio in The Button Factory. Can hardly wait!