I had a chance to visit The Boston Printmakers 2015 North American Print Biennial exhibit while in Boston over the weekend. The four-color complimentary catalog includes reproductions of each and every one of the nearly 130 original prints with the name and location of the artist, medium, size and price. Also included in the catalog is a glossary with short descriptions: How Prints Are Made, Relief Printing, Intaglio Printing, Lithography, Screenprint, Monotypes & Monoprints, Digital Prints, Limited Editions.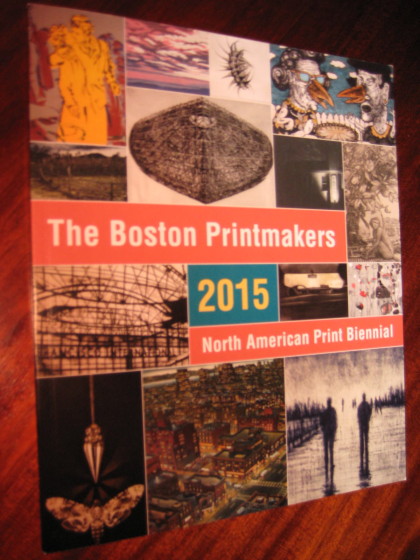 This biennial exhibit received nearly 2,000 submissions, including 699 artists from 49 states and 7 Canadian provinces, Puerto Rico and Cuba. My husband and I were simply blown away by the quality, creativity and, in some cases, humor and whimsy of the prints in this exhibit.
Another thing I liked about the exhibit: Each print was matted, not framed. I can really appreciate how much easier and less costly this is for the artists whose entries were accepted to the show. The prints in this exhibit are for sale and prices, in most cases, were surprisingly modest, perhaps assisted by the fact the pieces are unframed.
If you're anywhere near Boston, run, don't walk, to The Lunder Arts Center, at Lesley University, 1815 Massachusetts Avenue, Cambridge and see the The Boston Printmakers 2015 North American Print Biennial exhibit before it closes on December 12th.
This is a truly inspiring exhibit!