I seem to have no interest in making visual art at this point in time with COVID-19 safety measures sapping spontaneity. I depend on spontaneity to keep my creative juices flowing. Ideas keep popping up yet I lack the energy to bring these ideas to life. This, too, shall pass. Still, I have been and continue to be knitting up a storm, more than usual. It seems all I want to do is knit and read.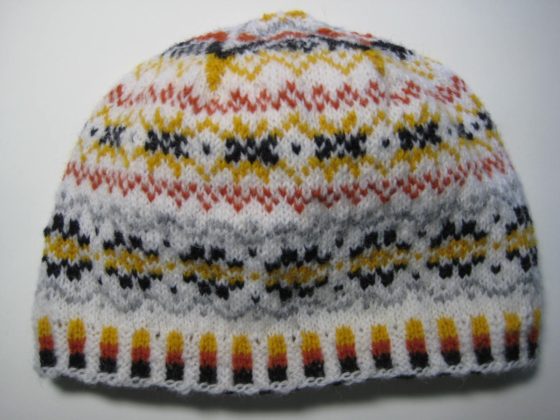 Katie's Kep pattern hand knit in Portsmouth, New Hampshire (April 2020)
Just finished knitting "Katie's Kep" (above) designed by Wilma Malcolmson for Shetland Wool Week 2020 (cancelled due to the COVID-19 pandemic). Such fun and so beautiful! Knitting is relaxing, meditative and rhythmic. Making visual art is relaxing, meditative, rhythmic. This year I'm knitting lots of Fair Isle and colorwork patterns using 100% Shetland wool. Totally absorbing. I love it!
This week I came across a photo (below) of some hand built clay pieces I made at Haystack Mountain School of Crafts in Deer Isle, Maine.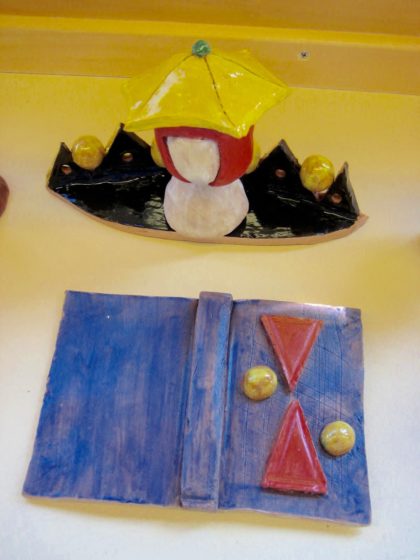 Clay sculptures hand built in Deer Isle, Maine (August 2017)
Interestingly enough, the colors in my first Katie's Kep are similar to those in the clay pieces I made three years ago.
One day at a time. Stay tuned.