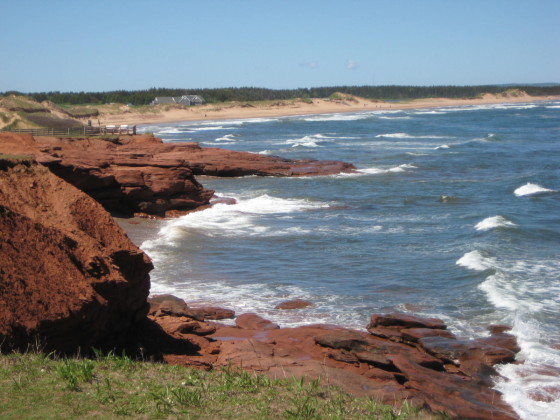 Just returned home to Portsmouth from our long anticipated road trip to Canada's Prince Edward Island. Absolutely fantastic! Our visit was everything we hoped it would be and so much more. We stayed in Charlottetown at the Elmwood Heritage 
Inn which is truly spectacular. Beyond Charlottetown, which has very much of a Portsmouth look and feel (we really did feel at home), there are charming villages, rolling green hills, freshly tilled red soil on beautiful farms, miles and miles of seacoast and beaches and ocean views, delicious freshly caught local seafood (PEI mussels really do taste best on the Island!), friendly and fun-loving people, lots of sheep and local yarn and woolens, Anne of Green Gables lore and legend galore, and lip smackingly yummy Gahan beer which is brewed in Charlottetown. Amazing! We were in PEI well before high season (July-August), so no traffic, no crowds, no lines, empty beaches. An easy drive from Portsmouth (we did it in two short days with an overnight in New Brunswick both to and from PEI). We will return. 
As always, it's wonderful to travel and now wonderful to be back home.