During the month of November, I participated in National Novel Writing Month (NaNoWriMo) 2021 which sets the goal for each participant to write 50,000 words of a shitty first draft in 30 days. NaNoWriMo started in 1999 and is described on its website as a "fun, seat-of-your-pants approach to creative writing."
As November and my writing unfolded, I discovered I really didn't care about "succeeding" in the NaNoWriMo sense of writing a certain number of words. I realized I simply wanted to spend the month of November writing in order to (1) enjoy and have fun with the creative process as I do with visual art and knitting (2) create a stash of words from which to pluck and play as I do with my stash of art supplies and stash of yarn (3) get into the rhythm of a solid writing practice. I'm happy to say I achieved each and every one of my personal goals with a total word count of 40,133 for NaNoWriMo 2021.
I've wanted to write a book since I was a teen. The book title Sleepwalking Through Oysterville came to me in a flash in the early 1990s when my now husband and I were living aboard our sailboat de Nada in St. Petersburg, Florida. While participating in NaNoWriMo 2021, I discovered what may have been holding me back from writing Sleepwalking Through Oysterville: focusing on product rather than on process.
Now, in early December, I'll continue writing my shitty first draft of Sleepwalking Through Oysterville until I have 50,000 words then I'll look at what I've got and go from there.
Meanwhile, I'm looking forward to returning to printmaking at The Button Factory in early 2022.
And, of course, knitting. I'm always knitting.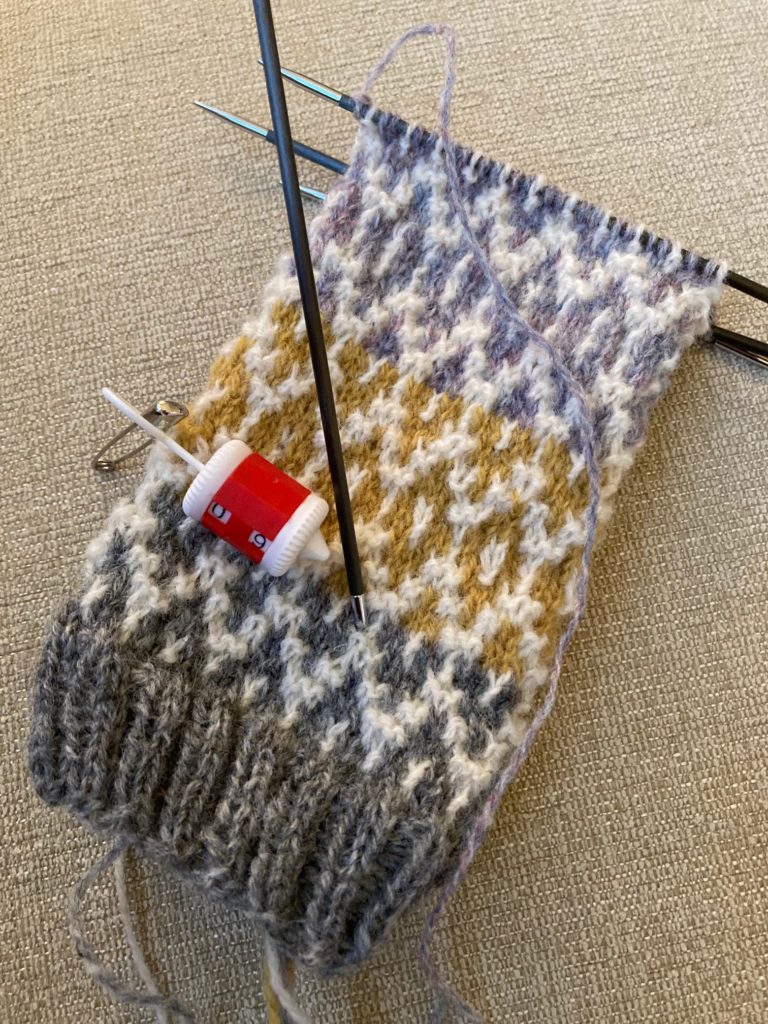 November 3, 2021: My progress in test knitting the purl bump diamond design
from Defiant Cardigan* and creating a pair of wrist warmers in the process.
*Scandinavian Sweaters: Over 25 Stunning Patterns to Knit by Kristin Wiola Odegard