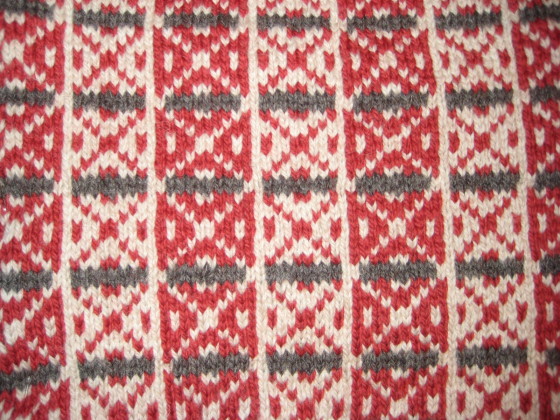 September and the unofficial beginning of autumn is here! This is my favorite season. While I knit continuously throughout the year, autumn brings with it an extra yen for all things warm, cozy and made with love by hand.
Most every Wednesday between 10 a.m. and 12 Noon, including today, I can be found knitting at  Sit 'n' Stitch which takes place in the second floor conference room at the Portsmouth Public Library. I'm currently practicing Fair Isle knitting. Am making two pillow covers. This photo shows the square pillow cover which I've finished knitting, pinned and am ready to block. Front: Fair Isle pattern. Back: Basketweave stitch in dark heather. Now knitting second pillow cover which is rectangular and different yet complimentary to the first. Pattern is from The Very Easy Guide to Fair Isle Knitting by Lynne Watterson (Copyright 2012).
Perhaps one day I'll design and knit one of my own Fair Isle inspired patterns. Who knows?