I have so many projects in motion these days it is rather astounding. Am I feeling overwhelmed? No, not all. Interesting enough, I feel calmer these days than I've felt in a long time. Perhaps the creative block I'd been experiencing for way too long was a result of having too few, rather than too many, projects in motion. Since my last post, I've learned about and now have added two wonderful new projects to my creative plate.
The Sketchbook Project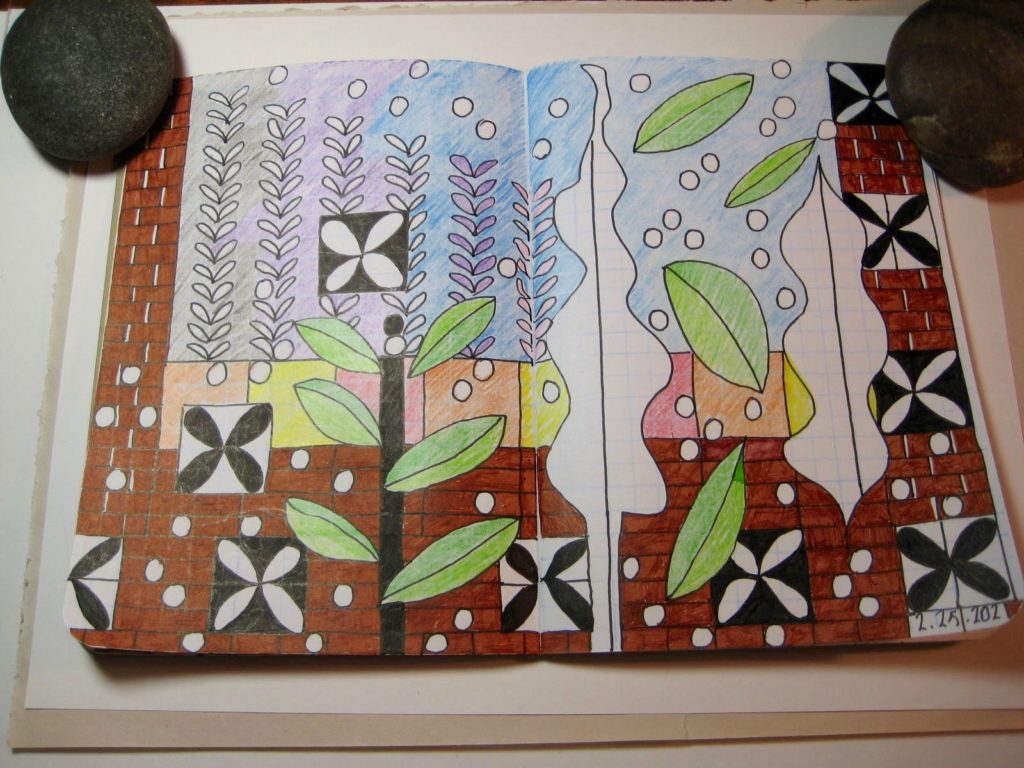 A recently completed full page spread in my sketchbook for Brooklyn Art Library's The Sketchbook Project.
Last month I became an official artist of and donated to The Sketchbook Project sponsored by Brooklyn Art Library. Every participant is sent the same 5″ x 7″ blank custom sketchbook which one fills and sends back to Brooklyn Art Library where it will be digitized, catalogued, and added to the world's largest collection of artist sketchbooks. I am participating in Volume 18 of this project which is still open to new member artists.
If you're interested in participating in Volume 18 of this project, go to www.brooklynartlibrary.org/participate and order your sketchbook by June 14, 2021. The deadline to return Volume 18 sketchbooks is August 3, 2021.
Draw 5 Minutes a Day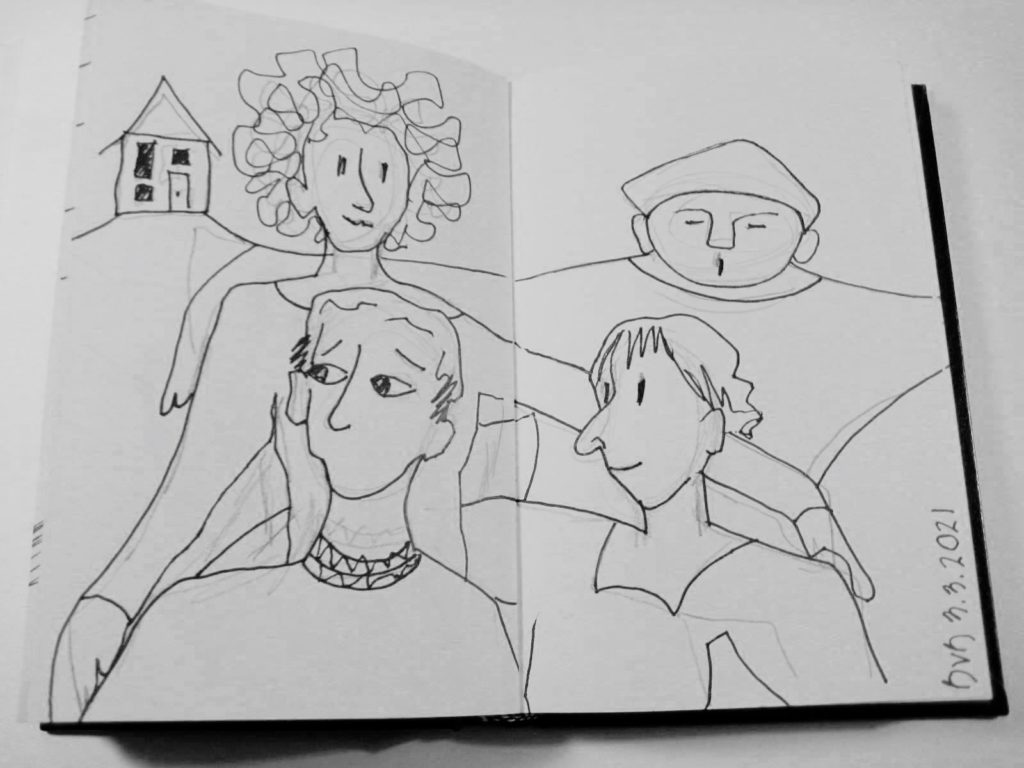 Today's sketch (Day #2) for Draw for 5 Minutes showing initial pencil lines and second run through with black marker.
Recently an artist friend invited me to join a Facebook group she's participating in called Draw for 5 Minutes. I thought, Are you kidding me? There is absolutely no way can I add one more thing to my plate! Then I thought, Why not? You're so busy you don't have five minutes in a 24 hour period to make one quick sketch? And so, of course, I joined in. It seems to me it's not important how much time is spent on a daily drawing. The key is to get into a rhythm of drawing each and every day. I have a hunch Draw for 5 Minutes is going to have a very positive effect on my sketchbook for The Sketchbook Project and vice versa.
Anyone and everyone can find the Drawing for 5 Minutes group on Facebook. You are welcome to participate or simply look at all the wonderful drawings being made.
Rock on!