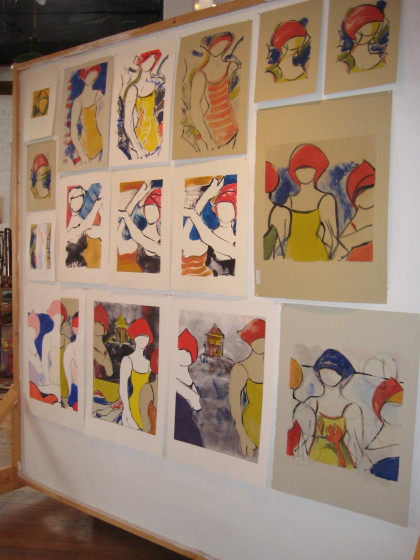 I'm working in the studio again after a three month hiatus which came about willy-nilly then unfolded due to, well, yes, you guessed it: Life. First, an unexpected family surgery in early December reset my priorities and simplified life to its minimalist best through the end of January. One day at a time. Then, of course, the snow began to fly here in New England. One day at a time.
Today, with family health restored and better than ever, lots of snow on the ground yet sidewalks and roadways clear and dry, and creative longing in my heart, I returned to The Button Factory studio. What a huge hug Darlene and I gave each other this morning! Three months is a long time be be away from the studio. Three months has been a long time away from "my girls": the Seacoast Women series I began last summer.  I could not even remember where I left off. Once I unzipped my portfolio, I began pulling out the quarter sheet and half sheet pieces I'd been working on. Then I removed the lid from the storage box where the full sheet pieces have been nesting. I took my time pinning up each piece to the big moveable board until the entire surface was chock-a-block full of color, line, and summer spirit. You can see for yourself what I saw today in the photo I snapped.
Yes, it's been a long winter. No matter. I feel very lucky. Very lucky indeed. We have about three more weeks until the official start of Spring (March 20). Meanwhile I'm having a blast with "my girls" and am once again in the zone. Stay tuned.